Cara (Ravi Pritam Kaur) Tracy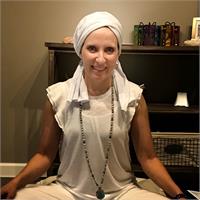 Cara's (Ravi Pritam Kaur) yoga journey began in 2009 primarily as a way to relieve stress and anxiety—something that was a part of her life for as long as she can remember. That changed dramatically when she found Kundalini Yoga and Meditation as taught by Yogi Bhajan in 2016. She enrolled in Kundalini Yoga Teacher Training as a way to strengthen her practice, but quickly found much joy and fulfillment in sharing the teachings with others. She completed her 200 hour training in 2017 and is continuing with advanced trainings and certifications so she can help others experience the profound impact Kundalini Yoga can have on their well being.
Cara is an Arizona native and a graduate of Northern Arizona University. She lives in Scottsdale with her husband, Paul.
Cara (Ravi Pritam Kaur) Tracy instructs the following:
Yoga is a spiritual practice yoking the body, the mind, and the spirit. Kundalini Yoga, the yoga of awareness, delivers you to YOU by clearing and balancing the chakras while building strength and releasing the energy located at the base of your spine. In this class you will focus on breath (pranayama), physical movement (asana), chanting (mantra) and meditation.

Kundalini yoga is the pathway to a happy and healthy life through balancing the blood and brain chemistry, and creating a flow of feel-good hormones in the body. Meditation brings us to state of peace by connecting to the divine within. Ancient technologies for modern times!