Ryan (Akal Mandeep) Fowler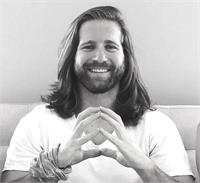 Ryan Fowler (Akal Mandeep Singh) was born and raised in Scottsdale. After high school, he lived in San Diego, Argentina, Austin, and Colombia before moving back to Scottsdale in January 2017.
Ryan's yoga practice began in search of flexibility and injury prevention for running. He quickly experienced that the benefits of yoga are much more than just physical. His "moving meditation" practice grew, and led him to complete his 200-hour teacher training in ashtanga-based vinyasa yoga. Since then he has studied and taught vinyasa, yin, hot, chair, and kids' yoga.
Ryan discovered Anahata and kundalini yoga in 2017 and began practicing kundalini yoga and meditation almost every day. He will graduate from Anahata's 200-hour kundalini yoga teacher training this summer, and in the fall will begin studying music therapy at ASU. Ryan plans to continue teaching yoga and incorporate this knowledge and experience into his future career.
Ryan (Akal Mandeep) Fowler instructs the following:
A fun and invigorating yoga class, based on linking movement with breath. An energizing flow infused with sun salutations, standing postures and some of the more basic arm balances, inversions and backbends. The teachers keep these classes lively with music and new and interesting postures; no two classes are the same! All stages of the posture are explained so that all levels feel welcome.