Margy (Priti Bhajan Kaur) Krause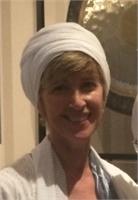 Margy (Priti Bhajan Kaur) Krause took her first Kundalini Yoga class in 2015 and knew immediately that she had found something unique. This is a practice that yokes the physical, mental and spiritual being and though she had been deeply involved in dance, various forms of yoga and different types of martial arts she found that this practice was the first that she not only wanted to dive deeply into to learn more about it for herself…but she wanted to find out as much as she could about the practice so that she could share it with others. She completed her Teacher Training through ANAHATA Yoga, Sound and Energy Healing Studio.
She believes that the practice of Kundalini Yoga can help those who wish to make a change to honor themselves and by doing so can be a part of a world that honors the value and the beauty of the old as well as the young. To be a part of a world that values intelligence, life and health.
Margy graduated from Iowa State University with a Bachelor of Science. She and her husband have lived in Arizona for over 30 years and raised their three, now grown and out on their own, sons. For the past 16 years she has worked with her husband at their architectural firm in Phoenix.
Margy (Priti Bhajan Kaur) Krause instructs the following:
These early morning classes include a short, dynamic Kundalini Yoga kriya and a powerful meditation geared to wake you up and get you going. Powerful breathing techniques will transform your blood chemistry, brain chemistry, and activate your glandular system increasing your vitality to meet the demands of your day ahead...

Transform your day! Beginners are welcome.