Seva Simran Singh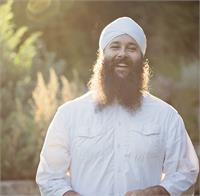 Seva Simran found everything he didn't know he was searching for when he took his first Kundalini Yoga class. He spent most of his childhood and early adulthood struggling with feeling stifled, numb and and confined. While seeking something more from life, Seva Simran's sister brought him to a day long Kundalini workshop. There he felt something fall into place and had the thought "THIS is what I have been looking for." Seva Simran knew he had to pursue making Kundalini Yoga his life's dedication. He is a level two certified Kundalini Yoga teacher, Sat Nam Rasayan Healer, Acupuncturist and KY a teacher trainer, conducting training all over the U.S. Seva Simran's life's work involves helping people find elevation and healing through the practice of Kundalini Yoga. This practice leads him to a brighter and more fulfilled existence on a daily basis. The opportunity to guide others to that same freedom is his passion. His aim is to create a space for students to release, heal and resolve. You can expect to experience chanting, mudra, breath-work and movement, as well as Seva Simran's warmth, compassion and humor.
www.gotkundalini.com
Seva Simran Singh instructs the following:
Community Sat Nam Rasayan Healing Experience




Sat Nam Rasayan

means

Deep Relaxation

in the

True Identity

. It is an ancient art of healing in which the practitioner utilizes their projective meditative mind to produce healing. The practitioner cultivates a connection to the deep and transcendent state of awareness (The Sacred Space) which allows for blocks/interference/pain to be released. Through this contemplative state of awareness effects can be produced in a person, relationship, event or even an object. For the practitioner, it is a deep meditative experience. The experience for the client can range from relaxing & relieving, release & transcendence to a deep experience of personal healing.

Please join us for an afternoon of donation-based healing, supporting the Seva Project, our 501(c)3, with local SNR healers and directly experience this ancient and powerful technique of pure yogic healing. Sat Nam.




Yoga is a spiritual practice yoking the body, the mind, and the spirit. Kundalini Yoga, the yoga of awareness, delivers you to YOU by clearing and balancing the chakras while building strength and releasing the energy located at the base of your spine. In this class you will focus on breath (pranayama), physical movement (asana), chanting (mantra) and meditation.

Kundalini yoga is the pathway to a happy and healthy life through balancing the blood and brain chemistry, and creating a flow of feel-good hormones in the body. Meditation brings us to state of peace by connecting to the divine within. Ancient technologies for modern times!




Join us at ANAHATA on Sunday, August 26th, 2018 from 4:00 am - 7:00 am to honor Yogi Bhajan's Birthday!

Seva Simran Singh will lead us through chanting Long Ek Ong Kar's, also known as Morning Call.

'This was almost the only mantra Yogi Bhajan taught during his first year in the United States (plus Sat Nam, of course). It is extremely powerful and energizing when done correctly. (Correctly means with full concentration, accurate rhythm, and proper pronunciation—and Neck Lock applied!) These eight syllables are the "code" letters, the direct personal phone number connecting you, the creature, with your Creator. It has been said that a person can attain liberation by chanting this ashtang (eight-part) mantra correctly for 40 days, for two and one-half hours before sunrise (the ambrosial hours).

The ambrosial hours are the ideal and most effective time of day to chant this mantra.' - 3HO.org

Free Community Event

Please register online at www.AnahataYogaAZ.com!