Seva Simran Singh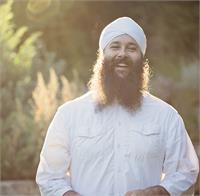 Seva Simran found everything he didn't know he was searching for when he took his first Kundalini Yoga class. He spent most of his childhood and early adulthood struggling with feeling stifled, numb and and confined. While seeking something more from life, Seva Simran's sister brought him to a day long Kundalini workshop. There he felt something fall into place and had the thought "THIS is what I have been looking for." Seva Simran knew he had to pursue making Kundalini Yoga his life's dedication. He is a level two certified Kundalini Yoga teacher, Sat Nam Rasayan Healer, Acupuncturist and KY a teacher trainer, conducting training all over the U.S. Seva Simran's life's work involves helping people find elevation and healing through the practice of Kundalini Yoga. This practice leads him to a brighter and more fulfilled existence on a daily basis. The opportunity to guide others to that same freedom is his passion. His aim is to create a space for students to release, heal and resolve. You can expect to experience chanting, mudra, breath-work and movement, as well as Seva Simran's warmth, compassion and humor.
www.gotkundalini.com
Seva Simran Singh instructs the following:
Yoga is a spiritual practice yoking the body, the mind, and the spirit. Kundalini Yoga, the yoga of awareness, delivers you to YOU by clearing and balancing the chakras while building strength and releasing the energy located at the base of your spine. In this class you will focus on breath (pranayama), physical movement (asana), chanting (mantra) and meditation.

Kundalini yoga is the pathway to a happy and healthy life through balancing the blood and brain chemistry, and creating a flow of feel-good hormones in the body. Meditation brings us to state of peace by connecting to the divine within. Ancient technologies for modern times!