Katie Tina Malinovic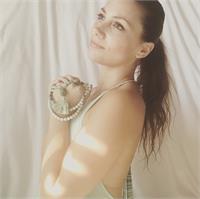 "What is done in love is done well."
Katherine Tina (Katie) is a teacher that believes in teaching from the heart. (Anahata)
She believes that yoga isn't something that we just do, but that yoga is something we are.
Katherine received her 200 hour Yoga Teacher Training (YTT) certification in 2013 shortly after beginning her own physical practice in 2011 soon after the birth of her second son.
Katherine is a mother to her two little (not-so-little anymore) blessed boys ages 9 and 7, with whom her world revolves around.
Katherine incorporates the beautiful balance between breath and body, heart and head. She tries to teach what the practice of yoga has taught her, as it connects her deeply therefore creating a stronger connection to feeling more and thinking less. She lives by the idea that we are all born from love, and love is that of our truest nature, it is who we are at our soul level. If we can all connect to that love in which we are made, share it, teach it, and live it; we can connect this world back to its root, more love and less fear. More feeling and less thinking. Katherine also incorporates the strong influence of the astrological world into her teaching; "we live by the sun and we love by the moon." She has a knowledge and a passion in connecting the yoga world to the astrological world as there is no separation. To conclude, she believes in the power of a healing hand and a transformative touch, as she combines and connects all aspects of her teaching by incorporating the power and passion of music and mantra, soul and sound.
"From My Heart To Yours."
Katie Tina Malinovic instructs the following:
If you have never done yoga, are new to the practice, or an experienced yogi, this all level 60 minute therapeutic gentle, meditative, yoga class focuses on the basic elements of posture, alignment, verbiage, and includes breath-work, and crystal sonic sound vibrations. See you on the mat!




A fun and invigorating yoga class, based on linking movement with breath. An energizing flow infused with sun salutations, standing postures and some of the more basic arm balances, inversions and backbends. The teachers keep these classes lively with music and new and interesting postures; no two classes are the same! All stages of the posture are explained so that all levels feel welcome.