Narsingh Kaur Khalsa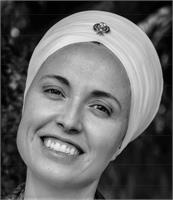 Narsingh Kaur Khalsa was born into a 3HO ashram in New Jersey. She started teaching her first yoga class with her parents as a child in the Ashram. From there she went to India and attended the 3HO boarding school founded by Yogi Bhajan. While there, she practiced Yoga and Meditation as part of her daily routine. After graduating school in India, she moved to Espanola, New Mexico and worked several years directly under the tutelage of Yogi Bhajan as part of his secretary staff-in-training. During that time she traveled with Yogi Bhajan and participated in all his workshops at different Yoga centers and ashrams around the globe.
Narsingh Kaur comes in with a wealth of knowledge regarding 3HO, Kundalini Yoga, Sikh Dharma, Holistic pregnancy & birth, and raising conscious Yogic children.
Narsingh is a Certified Kundalini Yoga instructor working on becoming a teacher trainer for KRI
She is also a Waldorf teacher trainer, DONA doula, Bradley method childbirth Educator and Mandala Yoga instructor.
Narsingh KK is also an Author/ illustrator and has published a children's book called RAAM The Adventures of Raam and Friends.
Narsingh Kaur Khalsa is currently not instructing any classes.